A few weeks ago I was in Pittsburgh for the 2015 International Association for Dance Medicine and Science Annual Meeting. This was my first IADMS conference, although I've been wanting to go since 2012 when I initially heard of the organization.
It. Was. Awesome.
Everyone in Pittsburgh is super friendly. I love America. I really do.
The hotel gave us free unlimited fruit (which I definitely didn't take advantage of everyday). At the conference itself we got unlimited free coffee (which I didn't also take advantage of…). And I got to hang out with dance-science nerds all day for 4 days. Dance science majors, PhDs, and other professionals who work with dancers in a big way. It wasn't intimidating at all. But as Julien Smith says, "Strive to be the stupidest person in the room", meaning, try to hang out with people smarter than you. Mission accomplished, IADMS. And how.
There was a lot of sarcasm in that paragraph. Apologies.
Another bonus was that I got to meet the actual faces of people I've only ever interacted with via email and social media, including some DTP readers, and it wasn't creepy at all to meet my internet friends. The internet is so awesome for connecting with people (but that doesn't mean you'll see me on a dating site any time soon).
Back story to this photo: Lauren Warnecke, Catherine Tully, and I were out for dinner, and while Catherine was in the washroom, a server asked Lauren and I if we were super heroes (apparently there was some kind of Marvel related show going on next-door at a convention center and he assumed we were part of it). Must be all those deadlifts because neither of us were wearing our capes. Hence the obligatory super hero photo. I love Pittsburgh!

Enough trivialities.
IADMS was a great, but here's what I left the conference feeling: It's all very well and good that we, the people passionate about the dance sciences, are able to network and share our experiences and wisdom with each other, but the high costs and travel required to attend conferences like this are excluding a very important  group of people: Dancers.
We all want to make accessibility of information, affordable training, and therapies more available to dancers, and we 're all passionate about it, but the actual doing is lacking.
How do we make information on best-practices for dancers more readily available to dancers? How do we provide dancers with affordable, high-quality supplementary training? And how do we give them access to the rehabilitation and therapy they need (especially in countries like the US where insurance doesn't always cover therapists).
You could say I'm pretty passionate about accessibility. This accessibility issue is what my career path is based upon after all.
So, with a head full of science, and inspired to share it all with the dancers who need it, I created the Dance Stronger Quiz. Because it's the very least I can do to help make this information available, in a (hopefully) fun format.
The DS quiz is designed to test your knowledge on what evidence shows are the best practices to improve dance performance and prevent injuries, but it also will teach you a bunch or new stuff(or be a nice review for some of you).
–>>Check out the Dance Stronger Quiz here <<–
When you're done, you can get the answer key sent to you via email, and it would be great if you let me know how you did in the comments below the quiz. Nothing like a little friendly competition 😉
Oh, and in other news…
WANT TO LISTEN TO AN INTERVIEW I JUST DID?
Yeah you do! I can't bear to listen to myself talking and I haven't listened to this interview since it was recorded, but people have been telling me that it was pretty good, dare I even say AMAZING. You'll be the judge.
I had the delightful opportunity to speak with Annett Bone of DancePreneuring Studio about some things that I give a damn about. In particular, enjoying longevity in dance without messing yourself up.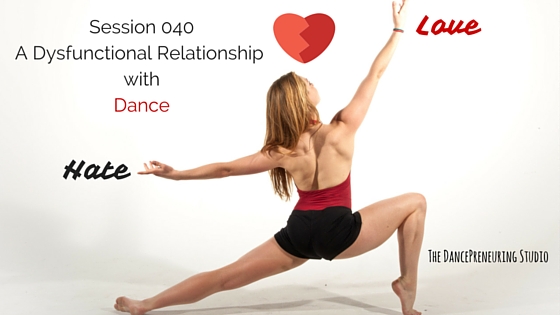 Annett was one of the original trial members of the Dance Stronger program.  She is an absolute gem, and her podcast covers topics relating to dance, entrepreneuring, and living a creative life.
We had an excellent chat about how to adopt a mindset that will help you succeed at dance long-term, and you'll hear me talk all about the many ways I screwed up, got injured, and why I started the Dance Training Project in the first place.
And while I'm giving updates on the various places on the web I've been doing stuff, maybe you didn't get the memo that I've closed up my training studio on Adelaide St. to join the personal training team at Sports Medicine Specialists.
SMS has a program called Dynamic Functional Training (DFT) which allows a part of your training to be covered through your insurance. YAY! So while I am happy/sad about leaving my training studio to join SMS- sad because I no longer am able to offer a lower studentcharity rate for my university dancers- I'm mostly happy because now you can train with me through your (or your parents') insurance.
DFT sessions are 30 minutes in length. To join the DFT program you first need to see a physio/MD at SMS. They will then refer you to me [or another fine trainer at SMS, but please choose me :)]. These 30 minute sessions act as "out-sourced physio", meaning that rather than the physio work on exercises with you, you do them with me. It's a pretty awesome program, and it can save you money if you have health benefits.
If you live in Toronto and are interested in learning more, get in touch with me for more info.
QUICK RECAP
Because this post was pretty random, here's the jist:
 **That was an Outkast reference. Outkast rocks!