Are you ready for a good, old fashioned, 2000+ word blog post, just like I used to do? Yeah you are!
Will this be my last rant of 2016?
Probably. But less of a rant, more of an expansion on a frustration.
This blog post is meant to serve as a follow up to a response I wrote on Facebook to Lisa Howell's recent blog post on The Ballet Blog, on why dancers should reconsider using a theraband to strengthen their feet. Lisa's primary issue with pointing into a theraband: Because dancers are likely to scrunch their toes, overwork flexor hallucis longus and other muscles of the calf, and do the exercise wrong. Banded foot-pointery could do more harm than good, so safer not to do it at all. 
In my commentary on my Facebook page (join me!), I agreed that I don't often (ever, to this point) use a theraband for foot exercises with training clients, but for slightly different reasons than "they'll probably do it wrong". I received some comments on asking for a little more info, disagreeing, or sharing their faith in the band to do good.
It's about time someone questioned my writing:
"using the band save my feet from injury and allow me to strength them in a pretty optimal way so I do not agree. I do when you say that it must be used properly but it's indeed a really useful tool…"
…band work is a great way to reduce load on the joint, muscles, or tendons during rehab, for example. If a dancer is injured and can't perform closed chain actions, why wouldn't you offer band work as an option? A simple solution to the problem of curling the toes is to place the band at the ball of the foot, rather than around the toes. Cue the dancer to keep toes relaxed and point the "foot", not the toes."
"Can you comment on restoring ideal movement mechanics?"
I hope to reply to some of those questions/comments now.
My blog post today relates to four primary themes on theraband use:
1) Most peoples' goals are vague to non-existent when they pick up a resistance band. They don't know why they're doing what they're doing.
2) The open chain nature of banded foot exercises are likely not to contribute to ideal joint mechanics when the foot is on the ground, and area in which dancers need a lot of help.
3) What if the foot isn't the root of the problem, just a symptom?
4) Will the banded foot-pointery not actually drive dancers deeper into their dance-specific adaptations rather than help them with what they specifically hoped it would? Which brings us right back to point one…
Just what is the goal, exactly?
And don't say, "to strengthen my arch", "ankle stability", or "injury prevention". That isn't enough information. Most dancers (and dare I say, some teachers!) doing these exercises aren't clear on their why.
Fitting that I just finished reading (audiobooking, rather) Start With Why, by Simon Sinek. SInek says, if you have your "why", the what and how will follow, but without a why, the what means nothing. And while he is speaking primarily of business, this is true on all other levels of life, including your body.
But also, dance IS your business. Your body is one of your most valuable assets, and maybe it's time to start treating it as such. What if you tried not just doing shit because so and so does it, or it looks cool, or because someone told you to. Make decisions congruent with your best interest in mind.
Unfortunately, I get the sense that many dancers don't know what "best interests" means. Or they do, but choose to ignore it.
Let's start with the "why" in the case of these banded foot pointing exercises- The foot's equivalent of the sit-up. No one's saying sit-ups are bad (well, some people are…), but you should know why you're doing them and understand if it's a choice that matches your goal.
So…
What's the goal?
Injury rehabilitation? To strengthen your ankles? More "stability"? To improve the arch of your foot? We need to be more specific, and to do that, we need to know more about you, the individual, and where you are right now.
Let's say, for example, you landed a jump kind of hard and awkwardly and have some shooting pains in your ankle. Or maybe you changed directions quickly in class, slipped, and sprained your ankle. Is this a job for the band? Surely pointing your foot into a band for five minutes before class will help make your ankle more stable, which is what you need, right?
Let's consider that the most common injuries in dance are to the foot and ankle. Sprains, shin splints, stress fractures, and broken bones etc.
What do these all have in common? Normally, these types of injuries happen while the foot is on the floor. Do we ever see foot and ankle injuries while the foot is in the air? Maybe through impact and direct trauma, but rarely, if not ever, does someone break their foot or sprain an ankle while it is in the air. 
These injuries happen due to the way the foot and ankle react (or don't react…) on the floor, in coordination with the rest of the body.
So if the way the foot interacts with the floor is the issue, for example, why the heck is a common solution to strengthen the foot with a band in an open chain? It just doesn't make much sense.
Let's go to town.
Open vs. closed chain
Open chain refers to the foot being off the floor, closed chain refers to the foot being in contact with the floor. The supporting leg in an arabesque is closed chain, the "up" leg, is open chain.
In gym-world, a squat is a closed chain exercise, and a seated leg extension is open chain.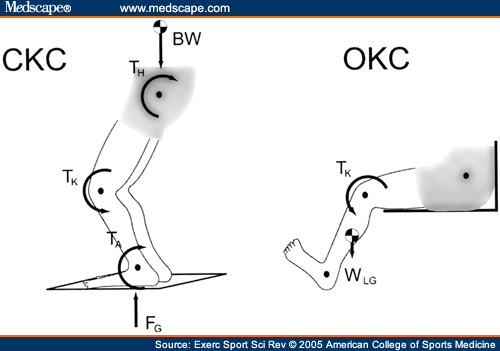 Here's the important bit: The foot and ankle do completely different things in open vs. closed chain.
Gait (walking) is predominantly closed chain (save for early and late swing). The implication is that the majority of what our brains recognize to be "natural" and useful movements for our bodies are in closed chain, walking being what our bodies were primarily set up to do. Working with how the body is designed to move through gait allows us to make incredible changes to how our bodies move, feel, and perform. This means, more often than not, working in closed chain.
In closed chain, the forefoot and rearfoot should move in opposition to each other due to the foot's need to be in contact with the floor. If this opposition didn't take place, the foot would act more as one big chunk rather than 33 articulating joints.
In a closed chain, the foot pronates and supinates.
In open chain, without the floor to provide sensory information, the foot does not oppose like it does when we walk. In open chain, the foot everts and inverts.
An important distinction to make here is between pronation and eversion, and supination and inversion. Pronation and supination are tri-planar movements involving opposing inversion and eversion the rearfoot, foorefoot, and toes.
Neither of these movements are good or bad. It simply is important to know the difference in order to make choices that support your goal.
Unfortunately, when it comes to supplementary training, the most popular forms of training for dancers are open chain, lying on the floor. This is fine, but it should not be the only form of exercise they do if we want to prepare them for the demands of dance when they stand up.
Let's continue with the landing a jump example.
How is it possible for such graceful creatures as dancers to land jumps like a ton of bricks? I've been sitting on the exam panel at the dance school I work at this week, and it has honestly been painful to watch the students jump. 
If we look at the foot as the first point of contact with the floor upon landing, much is left to be desired.
Upon landing a jump, the foot must quickly pronate (but not too much or too quickly) which will load the tissues on the bottom of the foot, and, like a spring, automatically resupinate the foot as the muscles catch and react to the force of the movement, propelling off the landing leg.
If we have trained dancers not to pronate (misinterpreting when and why pronation is useful) they will be landing a jump with a rigid foot and ankle, which feels pretty terrible. If we only recommend the use of bands to strengthen ankles and feet, we are never allowing them to access a hugely important component of landing a jump- Letting the bones of the foot spread to absorb force, aka, pronation.
I will speak primarily for ballet and contemporary dance in which the aesthetic of the art often interferes with the "ideal" mechanic for landing a jump. I was taught not to let my feet pronate, to push my knees out past my pinky toes, and keep my butt tucked under while I jumped, keeping "neutral" through my pelvis and spine. This aesthetic makes it nearly impossible to absorb shock, which is why the dance studio turns into a herd of elephants when it's time to jump. I'm sure you know what I mean…
In fact, I already wrote about this HERE. But no one said much about it or seemed to care either way. It's cool.
I also gave a talk/workshop on this last year at York University.
Wow, my hair was short!
Let's talk a bit more about pronation
Pronation is a tri-planar movement:
In the sagittal plane the forefoot dorsiflexes and the rearfoot plantarflexes.

In the frontal plane the forefoot inverts and the rearfoot everts.
In the transverse plane the forefoot abducts (or externally rotates) and the rearfoot internally rotates.
The exact reverse is true for supination.
Recall that in gait, the foot, as a unit, should not invert and evert while on the ground (and even continues to oppose in swing to a degree), because this does not allow for a tripod to be in contact with the ground, or, we end up with a very reduced tripod. 
Pronation is precious.
In the gait cycle pronation happens just once per step we take. 
It is the only time in which the bones on the bottom and medial side of the foot spread open, and the muscles on the bottom of your foot and some of the back of the ankle (achilles tendon, calf), lengthen. This is the way your brain recognizes these muscles lengthening to be safe and useful in order to walk- It's the way the muscles were set up to decelerate (lengthen under tension) your bones most efficiently as your foot hits the ground.
Sagittally speaking, with each step you take, your plantar fascia, and all the muscles that connect under your foot- tibialis posterior, flexor hallucis longus, flexor digitorum longus and brevis, and all the others under there that support the foot's arches, will lengthen, and, in response to this lengthening, receive the input required to contract and pull the foot into supination.
As per Gary Ward's rules of movement from his book What the Foot: A muscle must lengthen before it can contract. We cannot just eliminate one end of the spectrum and expect there not to be consequences.
If, as you walk, dance, and live, you avoid pronation, the muscles of supination will never get a chance to lengthen. Sure you can roll them out with a ball, but that doesn't change the fact that your foot doesn't ever use these muscles in movement through their full lengthening-shortening spectrum, they become stuck.
If you are to only train your feet with a band, to contract concentrically, you will have a very hard using muscles to absorb shock as you land a jump, as well as trouble using these muscles to point your foot.
But what about winging? Shouldn't I use a band to train my ankles not to sickle?
Winging the foot is a weird movement, but by classical standards it looks pretty, so it's here to stay.
Winging, as in the back foot in an arabesque line, is an open chain movement involving:
Rearfoot, forefoot, and toe plantarflexion.

Rearfoot and forefoot eversion.
Whole foot in external rotation.
Not the most natural feeling thing to do…
Maybe your teacher has told you not to sickle your feet, so it's off to the band to strengthen your feet into a winged position.
But before you set your peroneals on fire with the theraband, or do something silly with the Ballet Footstretcher, consider how this might affect how your feet perform when they are on the floor.
Knowing what you do now about foot opposition when it is on the ground, and the importance of this for shock absorption, and allowing muscles to lengthen and contract (which will actually improve your arch not make it worse), how useful do you think using the band will be for you?
Yes, it will be great for practicing what your foot does when your leg is off the ground, but what if that's all you do to cross train? What happens when it's time to jump? Have you prepared your body effectively to cope with that kind of stress?
Conclusions?
I'm not saying don't use the band, but before you do, consider these two things:
Does using a band match your goal? Do you really need to strengthen your foot muscles, or would it be more useful to give your feet an experience in closed chain, allowing the bottom of your foot to open, lengthening and contracting the tissues through their full range as they were intended to as you move.

If you are using a band specifically to reinforce an adaptation for dance, such as winging and pointing your feet, just make sure you have a strategy to unwind that so that your feet also understand what to do when they are on the floor. It might be interesting to check first, before practicing a specific skill to death, whether enhancing natural movement mechanics will get the job done on its own.
In the end, there are no right or wrong ways to train your body, but you must know why you are doing what you are doing. 
One person's "wrong" might be your "right". There may be a time and a place to use a band, just make sure you know what that is for you. 
In Dance Stronger, we go into more detail, and a few exercises that integrate pronation and supination in full body movements. If you are interested in going deeper into what I'm talking about in this blog post, you might be interested in checking the resource out.
Questions? Comments? Observations? Abuse? Let me know what's going on in your head.